Caffè Poli Academy was born with a mission: to create a strong partnership with our customers and help them fully develop their business potential. A truly dedicated service to meet every need of industry players, thanks to qualified staff who follows you throughout the entire development process of your business, offering dedicated skills and expertise. Caffè Poli Academy is staffed by a team from Torrefazione Caffè Poli and can rely on a network of company professionals and consultants, working side by side to evaluate and meet all customer needs - from early analysis of business plans, to the creation of marketing and communication plans, all the way to customer care and after-sales services.
Torrefazione Caffè Poli has always identified Quality as its corporate Mission.
To achieve this goal, an excellent product may not always be enough: quality must be combined with the right atmosphere, service, courtesy, in one word, with knowing how to be a "barista".
Focusing on this key figure, Torrefazione Caffè Poli invested considerable resources in training, creating Caffè Poli Academy, to allow all baristas to improve their skills and be always up-to-date on new trends, which helps them create a strong bond with the end customer.
In the classrooms, latest-generation equipment is available, which is used for theoretical and practical advanced training on the preparation techniques of espresso and cappuccino according to the Italian tradition. These are the three sets of training content that Caffe Poli makes available to all its customers:
BRONZE
Goal:
Prepare a perfect espresso, guaranteeing the quality of the coffee served based on in-depth knowledge of the product and of the right techniques. The secrets for a perfect cappuccino
Schedule:
History and evolution of espresso.
Characteristics of the espresso machine, the grinder and grinding.
Rules for perfect extraction and practical grinding tests.
Tasting, milk and cream, cappuccino and "latte art" to create heart, tulip, and leaf patterns
Maintenance and cleaning of the equipment.
Silver
Goal:
Become a Barista-Artista, the art of enhancing cappuccinos with the Coffee-Art technique until you are told: "It's a shame to drink it"
Schedule:
Milk
Milk emulsion to obtain the perfect cream:
Flat white, Italian, 3D
Creation of patterns:
Leaf, Heart, Tulip, Bear, Reverse
Practical exercise
Use of chocolate
Gold
Goal:
The COFFEE BARPERSON is a key professional in all coffee bars, an expert user of the espresso machine with a vision of all the related dynamics, from the coffee plant to the cup, with advanced milk art skills and tasting techniques and capable of creating new recipes, combinations and service options.
Schedule:
Presentation, customer satisfaction as a goal
Dynamics of customer involvement.
Sensory analysis and tasting techniques.
Advanced coffee art
Practical tests on visual, taste, aromatic and tactile analysis of espresso.
In addition to sharing these three content "steps", starting from this year Caffé Poli has made its recipes available, introducing you to the highly specialist subject of alternative extraction systems. We are now presenting the extraction methods that are to become the subject matters of our training.
SYPHON
The stylish Syphon coffee brewer was invented in 1840 to prepare delicate and aromatic coffee, using one of the most impressive and coolest extraction techniques available. Extraction is obtained both by immersion and by decompression. First rinse the filter well, insert it in the upper chamber and fix it firmly. Heat the water (92°/96°) and pour it into the lower glass vessel. Turn on the stove and the water will start to be forced up into the upper chamber. The water temperature must always be between 92° and 96°. Pour and stir 20 g of coffee with a medium/fine grain size in the upper chamber; after one minute, remove the heat source and the upper chamber. Wait a few minutes then serve.
MOKA POT
The Moka pot is an all-Italian invention of the 1930s, designed for extracting coffee with an intense and full-bodied aroma. Pour the water into the lower chamber of the moka pot to just below the pressure regulator valve (+/- 150g)
Grind coarsely 20 g of coffee, pour it into the funnel-shaped filter and level the powder.
Insert the filter in the lower chamber, screw tightly on the base and bring to a boil.
Place the moka on a stove top and a few minutes later the coffee will start to come out, ready to be poured into a cup.
AEROPRESS
Place the paper filter inside the cap and screw it into the device main cylinder. Place the cylinder facing down on a jug. Fill the filter with a teaspoon of freshly ground coffee with medium grain size. Pour 230 ml of water at 95° into the cylinder. After sixty seconds, press the plunger through the cylinder for ten seconds: the coffee is now ready to be enjoyed. Extraction is obtained initially by infusion and then using pressure and this is why a more full-bodied, less bitter, sweeter drink is obtained.
HARIO V60 E CHEMEX
It was a housewife who, in 1906, patented the required paper filters before the design was mechanised by the Japanese company Hario in 2005; named V60, it is made of ceramic, glass, plastic and copper with small-sized strips for drainage.
Take your glass flask (or 32ml cup) and place the cone with the paper filter in it; after folding the paper into shape, rinse the paper filter well, heat the cone and the cup.
Pour 40gr of water over the coffee and wait thirty seconds then pour the remaining 260 grams of water in about a minute. If all goes well, in two minutes and thirty seconds all the water should have drained through the cone into the flask.
FRENCH PRESS
Using a French coffee maker, or French press, is a great way of making a coffee infusion.
Named Aero Press, it was invented in 2005 by Alan Adler, a frisbee disc manufacturer. That's why its design meets the needs of frisbee players. The appliance is very light, inexpensive and compact;
Water is poured over the coffee (35gr) ground to a very large grain size and stirred with a wooden stick. Extraction takes place initially by infusion and then by pouring, then the coffee starts flowing down into a mug and the final extraction is done using pressure. This results in a less bitter, sweeter and aromatic drink.
COLD BREW
This extraction method is used to prepare a cold coffee brew which used to be a traditional gift to the Japanese emperor. Now extremely popular in the UK and America, it will soon become known in Italy, too.
Prepare a vessel with 80 g of coffee ground neither too fine nor too coarse. Add water and leave for ten hours in the covered, but not closed, vessel. Filter everything through a V60 filter and leave in the fridge for twelve hours. After twelve hours a delicious cold drink is ready; ice can optionally be added.
Caffe Poli's own recipes will be shared as key subjects of our Academy; the recipes will be based on both hot and cold extraction methods with innovative ingredients and amazing preparations in terms of both taste and presentation.
Mazagran
Recipe type: cold
Estrazione del caffè: filter
Mazagran is a cold and thirst-quenching drink made with coffee, ice and lemon. Originally from Algeria, it is also popular in Europe, especially in Portugal.
Preparation
Prepare a coffee with the V60 and let it cool down.
Mix a cup of coffee with half a cup of lemon juice in a tall glass and sugar to taste. Fill with ice and decorate with a lemon wedge.
It can be thinned down with water and in the Austrian version, a drop of rum is added.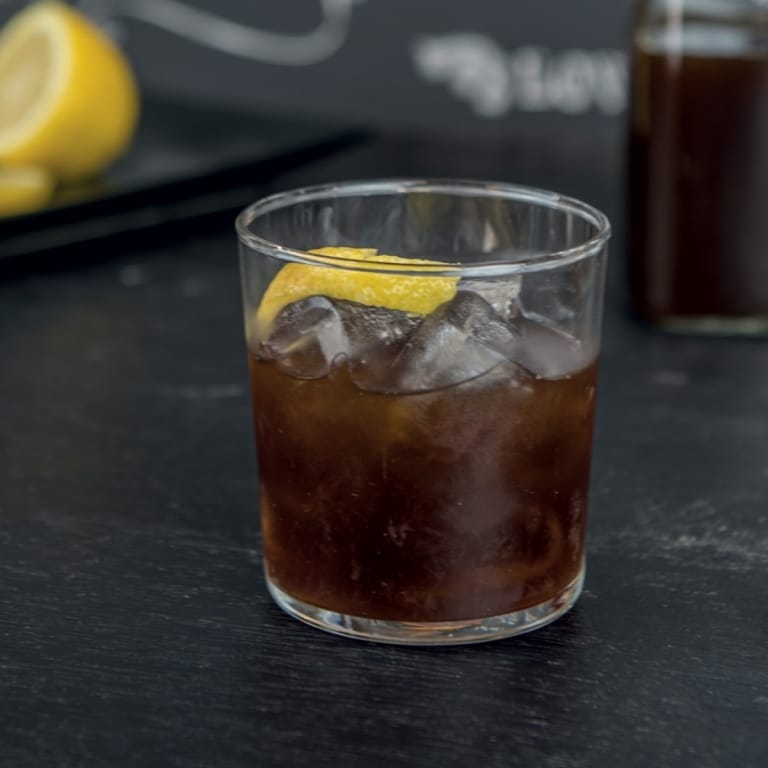 "GOLOSO" SHAKEN ICED COFFEE
Recipe type: alcoholic
Estrazione del caffè: espresso
Preparation
Prepare 2 espressos and pour into a shaker with a spoonful of condensed milk and 3 cl of Poli coffee & chocolate liqueur.
Fill with ice, shake and filter in a cup.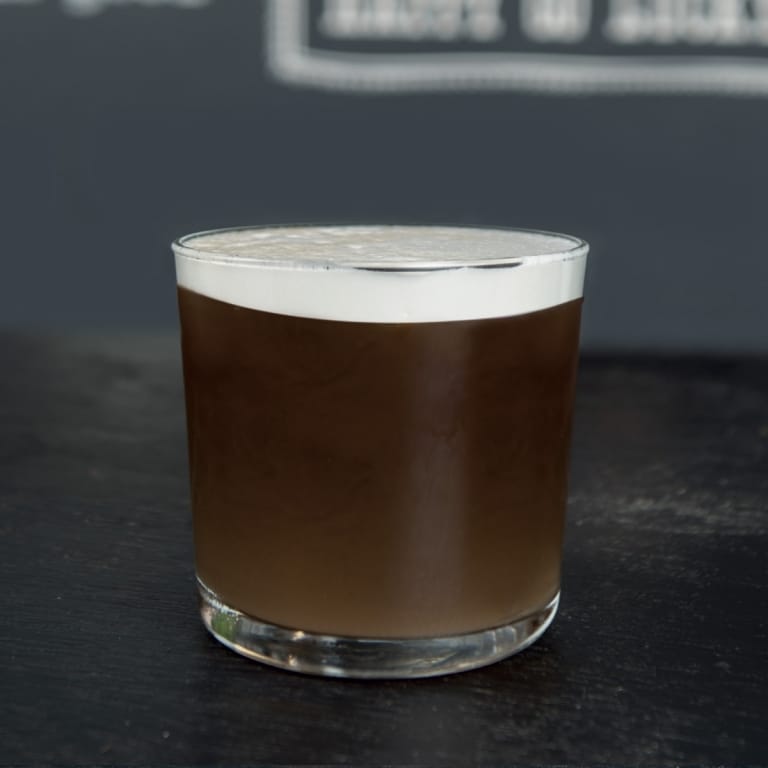 Aeropress cocoa & cardamom
Recipe type: hot/cold
Estrazione del caffè: aeropress
Preparation
Crush 3 cardamom capsules to extract the black seeds.
Prepare the Aeropress coffee maker with 12 g of coffee, 5 g of bitter cocoa powder and cardamom seeds.
Use 200 ml of water at 92-93°C.
It can be served hot or cold, shaken.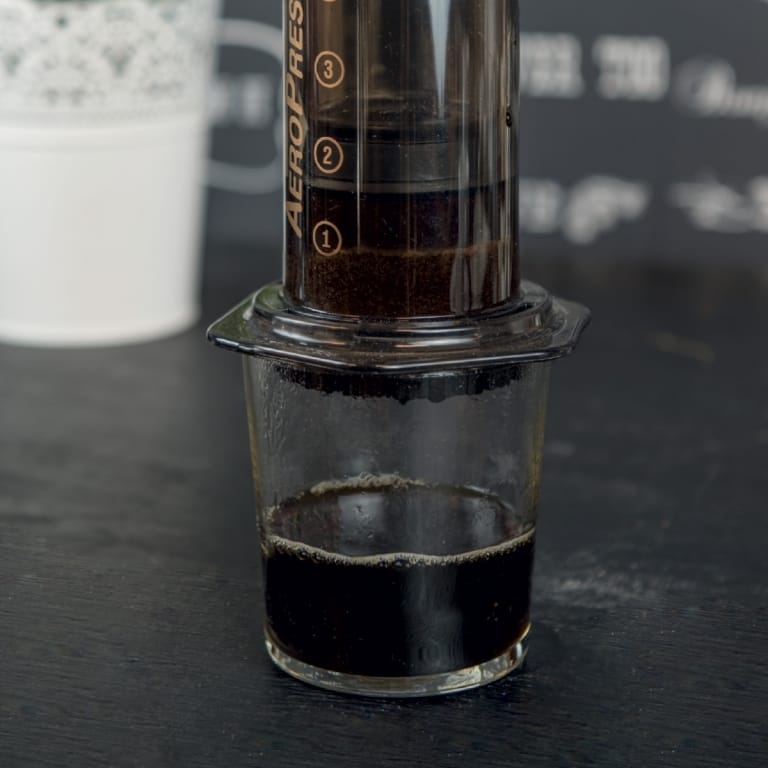 Barraquito
Recipe type: hot, alcoholic
Estrazione del caffè: espresso
It is a typical Canarian coffee, especially popular in Tenerife.
Preparation
The ingredients are poured in layers into a tall, narrow glass cup. The condensed milk is poured in first followed by, in this order: the liqueur (Licor43 or Tia Maria), the coffee, the hot milk and finally the foamed milk or cream which is sprinkled with cinnamon and lemon zest.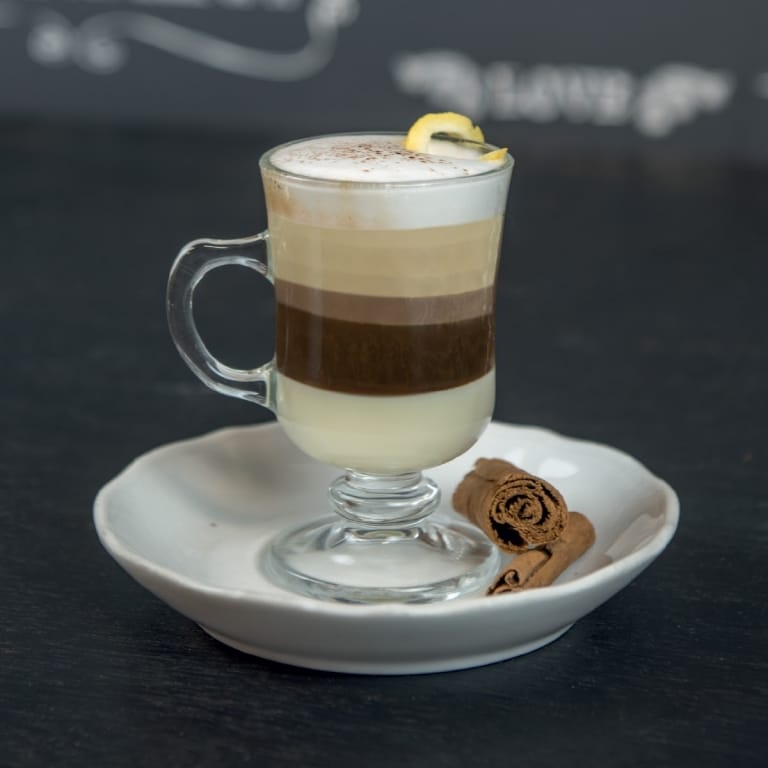 CAFFÈ BRÛLÉ (MULLED COFFEE)
Recipe type: hot
Estrazione del caffè: filter
A good mulled coffee is the ideal drink for colder days, to warm your spirits perhaps during a winter holiday in the mountains.
Preparation
Put some sliced orange, a bit of cinnamon, a few cloves and some star anise in the Chemex before the paper filter.
Fill the Chemex with 20gr of ground coffee and 250ml of water at 92-94°C.
Leave to infuse with the spices for a few minutes and pour in a cup.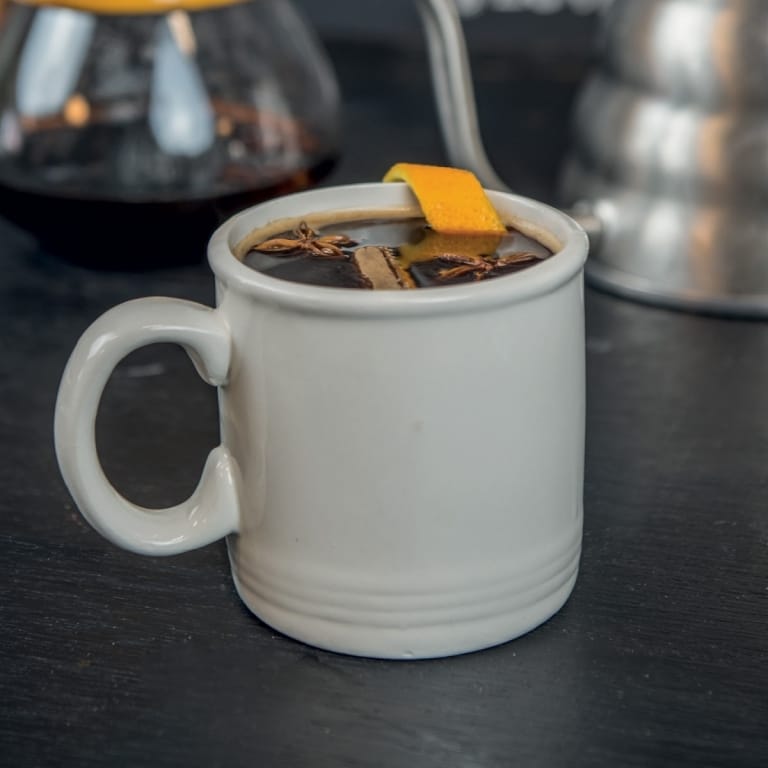 Chai coffee
Recipe type: hot
Estrazione del caffè: french press
Indian Chai is a tea flavoured with various spices and sweetened with milk and sugar. The spice mix used is called masala. This infusion is prepared all over India, and can be considered the Indian national drink.
Preparation
Prepare the French press with 15 g of ground coffee, 5 g of black tea with spices and 250 g of water. Leave to infuse for 2-4 minutes.
Pour into a milk jug with cold milk and froth lightly with the steam wand.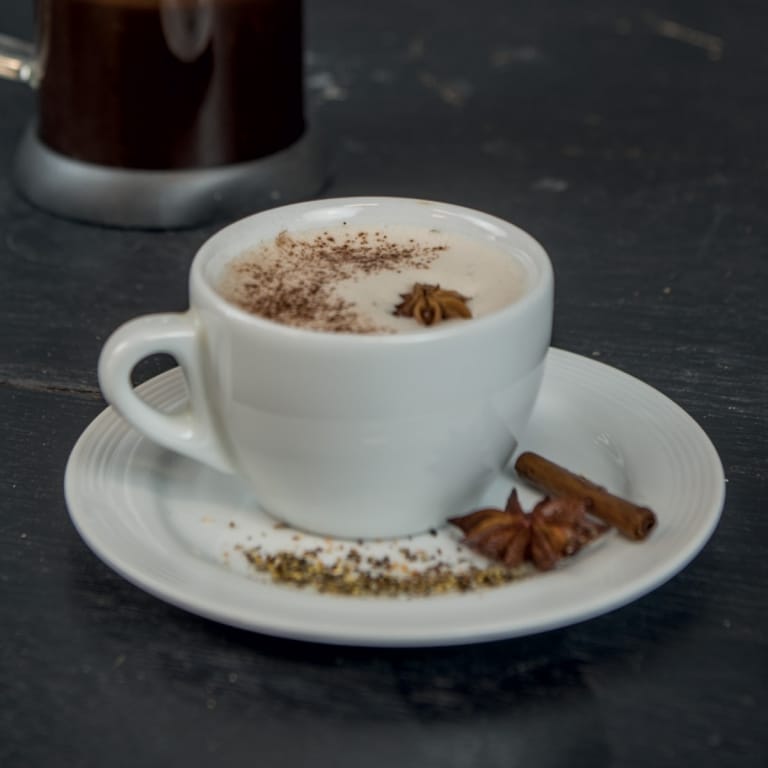 Cuban layered coffe
Recipe type: hot
Estrazione del caffè: espresso
Preparation
Pour a spoonful of condensed milk into a glass so that it settles at the bottom.
Create the second layer by slowly pouring in the espresso.
Fill the glass with frothed milk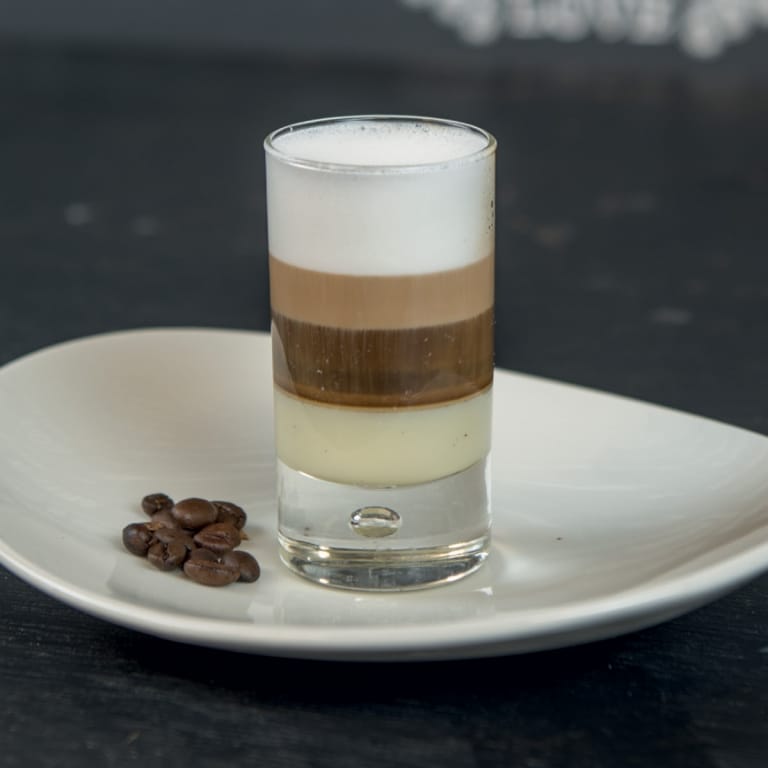 Orange cappuccino
Recipe type: cold
Estrazione del caffè: espresso
Preparation
Pour the orange marmalade into the glass.
Add cold milk.
Prepare 2 espressos and, after adding sugar and shaking the coffee over ice, pour into the glass.
Fill with skimmed milk after frothing it in the mixer.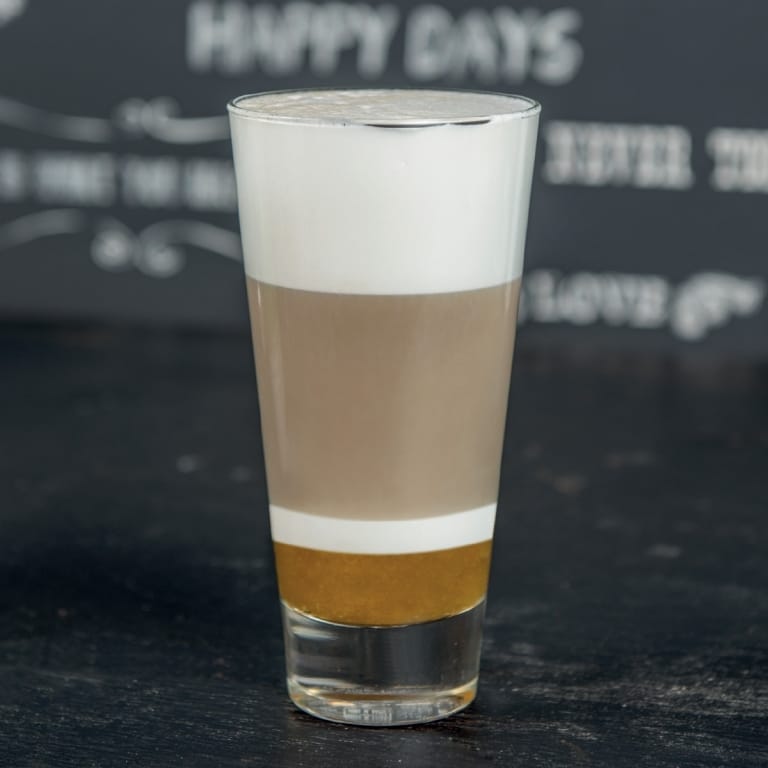 Thai iced coffee
Recipe type: cold
Estrazione del caffè: filter
Preparation
Prepare a filter coffee using a V60 coffee maker with 15 g of ground coffee and 250 ml of water at 92-94°C and let it cool down.
Pour into a glass filled with ice and add the coconut milk.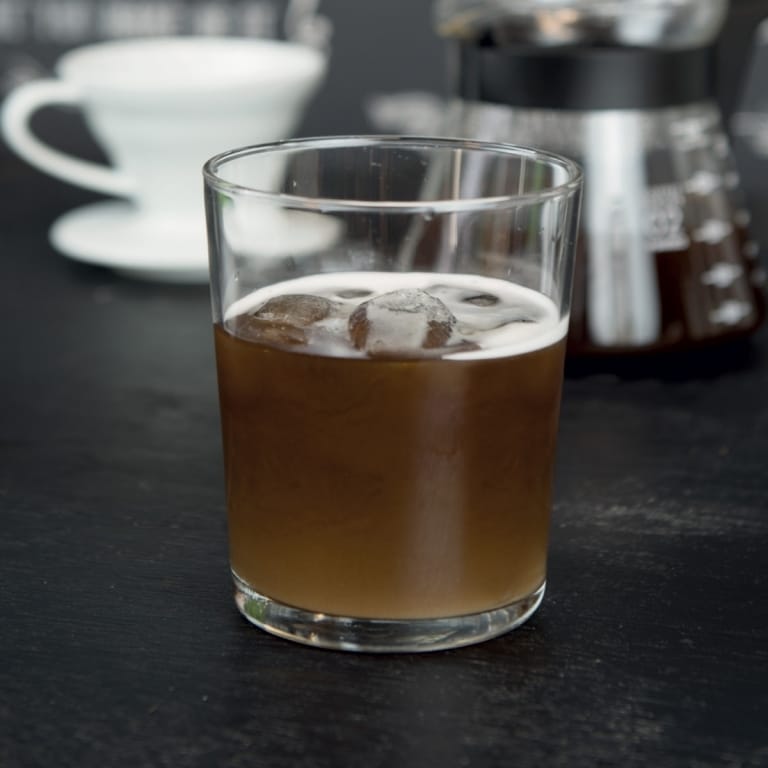 VIENNESE COFFEE
Recipe type: hot
Estrazione del caffè: espresso
Classic Lungo tall coffee with milk foam: even more delicious when topped with sprinkled chocolate. A delicious special espresso, to be enjoyed to the last sip. A real treat for your eyes and taste buds.
Preparation
Pour 10gr of chocolate topping into a coffee glass.
Prepare a lungo espresso, pour it into the glass and fill with whipped cream.
This drink can also be prepared by pouring the espresso directly into (classic or white) hot chocolate.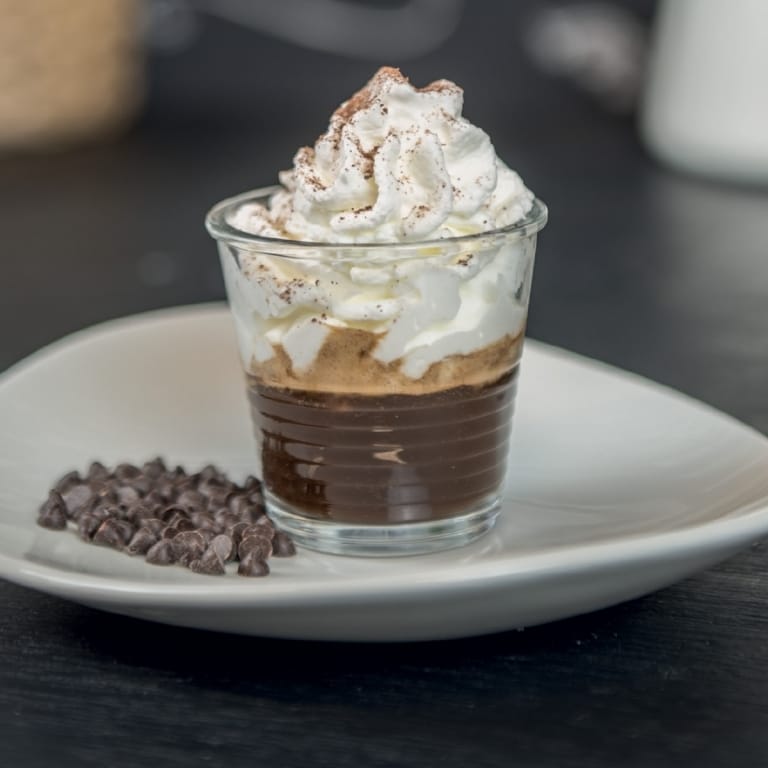 Do you want more information?
Fill out the form and we will contact you in a very short time